Great day for the whole Church! Thank you especially to the Catholics of Ireland and El Salvador!
Bondings 2.0
The following is the statement of Francis DeBernardo, Executive Director, New Ways Ministry, on the occasion of Ireland voting to legalize marriage for lesbian and gay couples:
Today, headlines around the world announced Catholic news from two different parts of the globe, which may seem disparate, but which share an important common theme.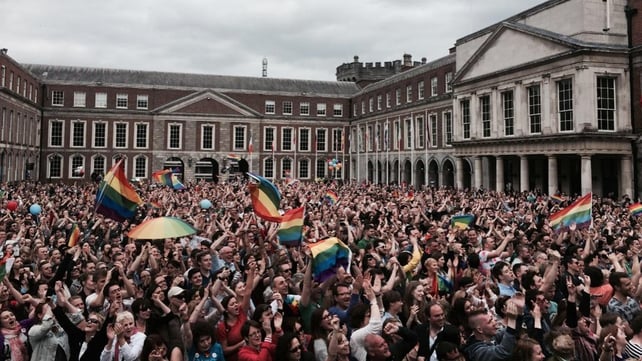 Crowds outside Dublin Castle celebrate Ireland's marriage equality victory.
In Ireland, one of the most Catholic nations on earth, hundreds of thousands voted overwhelmingly in a general referendum to enact marriage equality for lesbian and gay couples.
In El Salvador, a strongly Catholic nation, hundreds of thousands turned out for beatification ceremonies for Archbishop Oscar Romero, who was martyred 35 years ago while celebrating Mass.
What do these two stories have in common?   In both cases, the opinion of Catholic lay people has won the day, even when the church's hierarchy opposed both developments.  In both…
View original post 503 more words